Lisa Bernardi Wolf / LisaBdot

213 Cardinal Drive, Youngsville, NC 27596 / 919.556.5068 / www.LisaBdot.com / LisaBdot@aol.com

Exhibiting both tour weekends  

painted furniture / figurative contemporary sculpture / functional pottery          Price range: $10 - $2000

Receive a free gift from Lisa when you purchase from her during the tour:


Last year's free gift, "Funtun Funefudenkyem Funefu" conjoined crocodiles
symbolizing democracy & unity, continued the series of collectable ornaments

featuring Ghanaian Adinkra symbols. Previous year's gifts,"Kwatakye Atiko"

symbolizing bravery, "Sesa Wo Suban" I change or transform my life, "Wawa Aba"

seed of the wawa tree symbolizing overcoming barriers, & "Aya" the fern symbolizing

endurance & resourcefulness, are available for purchase.


Working chiefly in stoneware clay, Lisa loves the challenge of sculpting. "I really like working with the clay until I 'get it right.' It suits my persnickety nature."

She works under the name LisaBdot. A nickname from childhood, it comes from her first day of kindergarten when she came home to tell her parents, "my name is Lisa Bee Dot," because chair, coat hook & cubby were labeled "Lisa B."

In addition to the pieces shown here, Lisa will be showing sculpture, as well as a limited number of tiles & mirrors. She is also available for portrait sculpture commissions. Information about the process of modeling for a portrait can be found on the
"Portrait Sculpture"
page of Lisa's website,
www.LisaBdot.com
.

Lisa was the 2009 Franklin County Artist of the Year.
This studio IS wheelchair accessible. If you wish to visit while wheelchair bound, you may wish

to phone ahead so that we can meet you at the door & guide you in the easiest entrance.


Floral Amphora Series


In ancient Greece & Rome, amphorae were tall, two-handled jars used for storing wine or oil, narrow at the neck & base.

Lisa's series of nine stoneware amphorae are shaped like surrealistic flowers & illuminated with oil paintings of faces & torsos. Each amphora may be removed from its sculpted plaster base.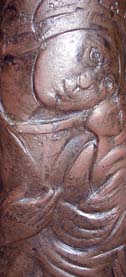 Goddess & Guardian Series


Goddesses, guardians, queens, madonnas, angels & fairies in dark stoneware clay are graced with symbols from many cultures affirming life, love & balance. Cats wear crowns. Dogs are well endowed. Women with wings stand & sway gracefully, icons & Isis embossed upon their skirts. And under those skirts ~ a little secret hiding place.
Functional Pottery


A Summer session at Penland School of Crafts in 2006, the result of winning a Regional Artist Project Grant from United Arts Council, allowed Lisa to explore functional pottery.

Penland School of Crafts is a world-renowned center for craft education located in the Blue Ridge Mountains of Western North Carolina.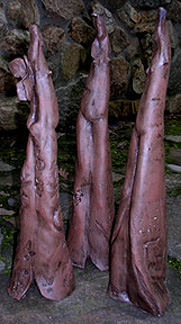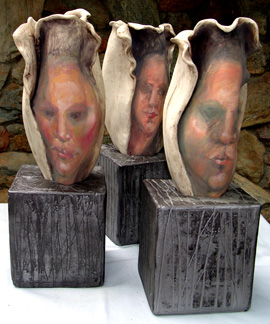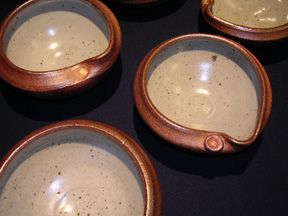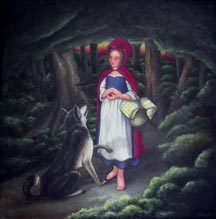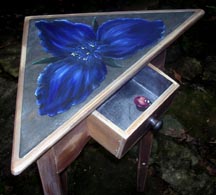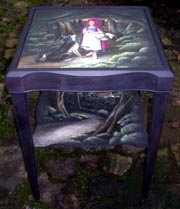 Red Makes a Friend on Her Walk In the Woods

Painted two-level wooden table

20" x 20" x 27"

Poppy

Painted wooden table

11.25" x 11.25" x 27"

Tradescantia

Painted wooden table with drawer

22" x 11.5" x 29"

Painted Tables


Lisa says, "I've been thoroughly enjoying the immediate gratification of painting little tables. I've acquired around a dozen from all sorts of interesting places. Most are old, some are newish. All have character. I think little tables are like jewelry for the home--there's always room for one somewhere in the house, & they just dress up a room. They do make me smile."